Looking for somewhere fun and unique for your outing? We have many options for you. All of the following can be independent of, or in conjunction with a visit to the Adventure Farm or Christmas Tree Farm.
If you have an idea you don't see here, please ask and we'll work with you to plan a memorable event.
Our party locations are great for both large and small parties.
Our Barn is located on the west side of Richardson Rd where our Christmas trees are sold in Nov/Dec. The Barn has a North end and a South end connected by a breezeway. The Barn is a great location because of its spaciousness.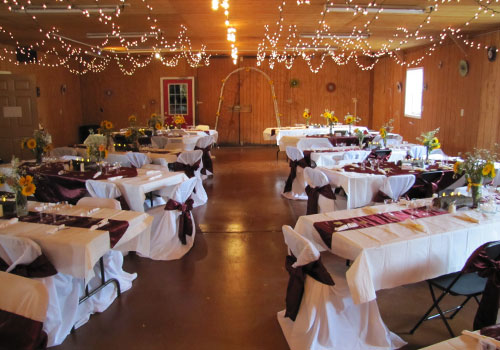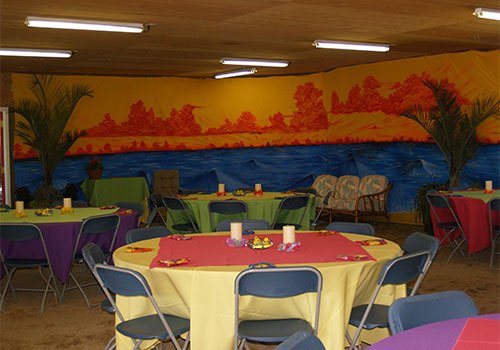 Party in The Barn

South Room
Our heated/air-conditioned room can seat up to 120 people. Two kitchenettes, two bathrooms, rustic interior.
North Room
This heated/air-conditioned room can seat up to 80 people. Men's and Women's bathrooms, rustic interior. No kitchen.
South and North Rooms
Rent both barns and the possibilities are endless. Have a wedding ceremony in the North Barn, sit down dinner in the South Barn, followed by dancing in the north barn, games and drinks in the breezeway area.

Both Rooms and the breezeway rent for $1750 for the day or $450 for 4 hours

Included are: tables, chairs, dance floor, ice machine

For large events: day before for set-up ($200); day after for clean-up (free)

(Not available in Nov. & Dec.)
Party or Hold a Meeting in the Event Room
The Event Room is a heated/ air-conditioned facility on the corn maze Adventure Farm grounds perfect for a party or meetings. Enjoy easy access to the Adventure Farm grounds.

$450 for up to 4 hours; 100 capacity; tables and chairs included

$1600 for the day; tables, chairs, dance floor, included

For large events: day before for set-up ($200); day after for clean-up (free)

Available May – mid November, Sept and Oct guests must pay admission to the Adventure Farm grounds