Support Troops & Their Families This Christmas!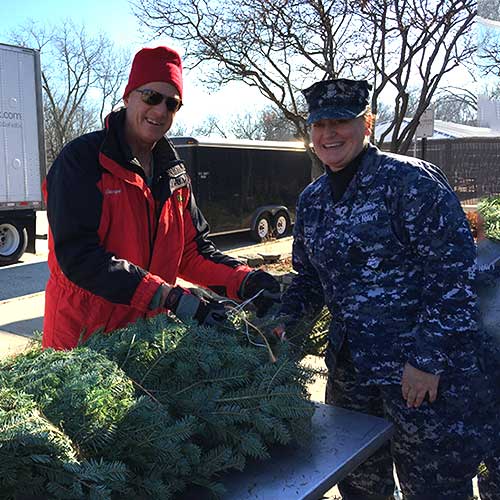 Trees for Troops, a program of the Christmas SPIRIT Foundation and FedEx Corp., is preparing to kick off its holiday season, with plans to deliver over 16,000 Real Christmas Trees to military service members and their families throughout the United States and overseas.
To help support our military, the Richardsons donate 25 trees each year as part of the nationwide program to deliver trees to troops. We also spend the day at Great Lakes Naval Station helping service men and women choose their perfect tree.
We have several collection boxes on the farm where you may donate money to support the Christmas SPIRIT Foundation. You may also purchase a tree to add to our donation and in addition, add your personal message on a card that we will provide.
The Christmas SPIRIT Foundation
Donate a tree for $40 plus tax ($42.80)- our special reduced rate - by early December. The Fed Ex truck will be leaving our farm for Great Lakes Naval Base at the end of the first week in December.
Three Ways You Can Donate
Call the Farm
Call 815-675-9729 to place your request and make your payment. Email a short personalized note that will be attached to your tree to info@RichardsonFarm.com
E-mail Your Personalized Note
Visit the Farm
Visit Richardson Christmas Trees and pick out a tree and write your own message on cards that we provide. The Fed Ex truck will be parked on our farm the first week of December. You will be able to purchase a tree up through the departure date.
Donate to SPIRIT
Donate money to the Christmas Spirit Foundation. This foundation supports Trees for Troops and other programs to spread the Christmas spirit. If you choose this option please visit christmasspiritfoundation.org to make your donation.
The Christmas SPIRIT Foundation
Help Richardson Farm give our military families a beautiful Christmas!